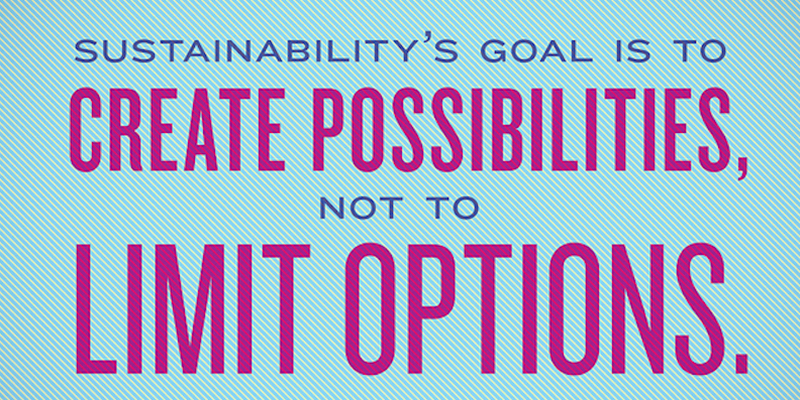 Ecological Benefits of PermaTrak System
Durability and 50-75 year design life prevents required replacement every 5-10 years

No heavy processing or toxic chemicals used in production or required for installation

Concrete mix design contains recycled content (type II Portland cement, of

which 14.7% contains pre-consumer recycled material)

Uses regional materials (regional production facilities)

Permeable surface, gaps in treads allow for drainage
LEED Benefits (see below)

Noncombustible (read more about fire resistance ratings here)

Integral dye coloring instead of stain applied in the field

Sturdy construction with tongue and groove discourages vandalism
Made from naturally occurring components (sand, water, coarse and fine stone) that are abundant across North America
Relatively low embodied-energy value (inorganic materials from natural and recycled sources) unlike highly processed materials such as plastics
Inert material that can be recycled (as concrete aggregate or to make new boardwalk materials)
Does not release any gases or toxic compounds into the environment during its service life
Related Blog Articles:
Going Green: Finding Environmentally Friendly Boardwalk Materials
Green Building and Design Standards: SITES Program vs. LEED
Boardwalks Through Wetland, Marsh or Mangrove: Installation Impact
LEED Benefits Achieved with PermaTrak System
The PermaTrak precast boardwalk system is well suited to contribute to your LEED green credits. The LEED Green Building Rating System™ is a third-party certification program from the US Green Building Council (USGBC) that has outlined, in this rating system, the features required for certification. Certification levels vary from "Certified" to "Platinum" depending upon the credits achieved.
Certification is achieved by demonstrating that your project has achieved defined standards of the USBGC with the goal of being environmentally responsible, profitable and a healthy place to live and work. For more information from the U.S. Green Building Council, visit www.usgbc.org/leed.
Listed below are the categories and specific credit number per the LEED rating system where PermaTrak should be considered in your LEED analysis and project development.
MRc4 - (Materials and Resources) -
Recycled Content
Intent: To increase demand for building products that incorporate recycled content materials, thereby reducing impacts resulting from extraction and processing of virgin materials. As it currently stands, a project can receive either one or two LEED credits for the use of recycled materials in the project (this includes all construction materials and is not just limited to ready mixed concrete). In order to obtain one credit the owner must first demonstrate that at least 7.5% post-consumer and post-industrial recycled materials have been used in the project. To obtain the second credit the owner must increase this replacement level to at least 15%.
PermaTrak™ Benefit: The PermaTrak system is a reinforced precast concrete product. Use of fly ash and recycled aggregates can count towards a 1 or 2 point credit. There are several concrete tracking forms available for designers performing this calculation (i.e. LEEDuser.com) which simplifies this computation.
A ratio of recycled content to total weight is computed by assessing the weights of the recycled elements of the concrete elements. Fly ash, ground granulated blast furnace slag, some admixtures and aggregate are commonly used recycled products.
Ready mixed concrete contributes to the recycled materials content in the LEED rating system by focusing on replacing the amount of cement in the mix design with the increased use of SCM's, such as slag and fly ash. While the calculations for the recycled content percentage within each material is done by weight, the calculation of the total recycled material content percentage is done on a cost basis.
MRc5 - (Materials and Resources) - Regional Materials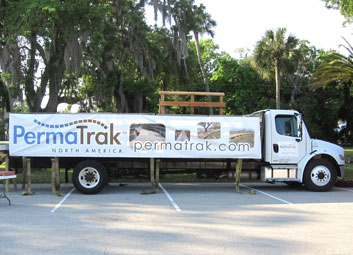 Intent: Regional materials are those that are extracted, harvested and manufactured within 500 miles (as the crow flies) of your project site. A credit of 1-2 points is possible for 10%-20% material by cost.
PermaTrak Benefit: It is our intention that our precasters be selected such that the system will always be within 500 miles. Not only does this meet MRc5 but simply makes good business sense. Each precaster typically uses materials local to their precast facility.
SSc5.2 - (Sustainable Sites) - Site
Development, Maximize Open
Space, 1 Point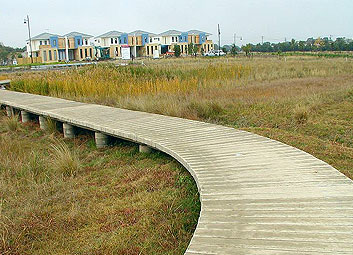 Intent: To provide a high ratio of open space to development footprint to promote biodiversity.
PermaTrak benefit: PermaTrak's boardwalk system allows for pedestrian access across protected wetland areas and thus improves connectivity among developments.
SSc6.1 - (Sustainable Sites) - Storm Water Design - Quality Control - 1 Point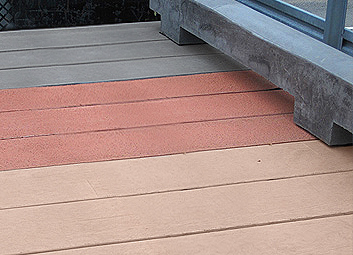 Intent: To limit disruption of natural water hydrology by reducing impervious cover, increasing on-site infiltration, reducing or eliminating pollution from storm water runoff, and eliminating contaminants. On building sites where the existing imperviousness is greater than 50%, this credit requires reducing the quantity of storm water runoff by 25%. On building sites where the existing imperviousness is less than 50%, the requirement specifies that the post development discharge rate and quantity from the site shall not exceed the pre-development rate and quantity.
PermaTrak benefit: PermaTrak's boardwalk system is a modular precast system with treads set nominally ½" apart from each other, thus allowing water infiltration between the treads.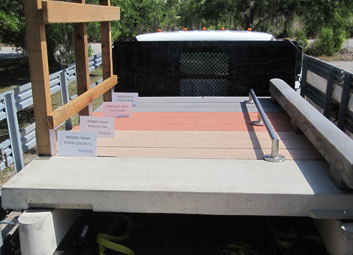 SSc7.1 - (Sustainable Sites) - Heat island effect - Nonroof
Intent: To reduce heat islands to minimize impacts on microclimates and human and wildlife habitats Option 1: Non roof hardscape surfaces requires that at least 50% of roads, sidewalks, courtyards and parking lots must meet one of the following criteria:
Light colored, with high solar reflectance index (SRI) greater than 29

Open-grid paving (at least 50% pervious)

Shaded by trees

Shaded by structures with SRI > 29

Shaded by solar panels
Definition per LEED: The solar reflectance index (SRI) is a measure of a material's ability to reject solar heat, as shown by a small temperature rise. Standard black (reflectance 0.05, emittance 0.90) is 0 and standard white (reflectance 0.80, emittance 0.90) is 100. For example, a standard black surface has a temperature rise of 90_F (50_C) in full sun, and a standard white surface has a temperature rise of 14.6_F (8.1_C). Once the maximum temperature rise of a given material has been computed, the SRI can be calculated by interpolating between the values for white and black. Materials with the highest SRI values are the coolest choices for paving. Because of the way SRI is defined, particularly hot materials can even take slightly negative values, and particularly cool materials can even exceed 100.
PermaTrak Benefit: SRI values of at least 29 are attainable with the all the PermaTrak Standard color choices currently available for the PermaTrak system (Natural Concrete, Melbourne Tan, Adelaide Gray and Piedmont Clay).
*LEED is a registered trademark of the U.S. Green Building Council. Information about LEED and the USGBC has been acquired from www.usgbc.org. More information on LEED can be found at www.usgbc.org/leed.
Note: LEED credit descriptions included here cite the U.S. Green Building Council's LEED for New Construction and Major Renovations Version 3.0 document. This listing is not a certified claim that the stated PermaTrak North America offering fulfill the specified LEED category and credit. This listing is only a general reference on which the PermaTrak system may pertain to LEED category and credits.