Designing a boardwalk for commercial use in a marine environment comes with a unique set of challenges for designers. Engineers and architects must account for static site conditions as well as natural events that may occur during the structure's lifetime, including flooding and storm surges.
For boardwalks on the US coast, two of the major factors to consider are uplift forces from storm surges and salt exposure (near ocean or intercoastal).
Boardwalk Design to Combat Uplift Forces
The common causes of uplift for boardwalks are:
Rising Floodplain Waters
Coastal Storm Surges
Wind Loads
Stream Debris
Stream Flow
Seismic Movement
Lighter timber or composite wood boardwalks have a harder time withstanding uplift forces that come from coastal storm surges and wind loads. The deck boards or planks are lighter than precast concrete boardwalk components, which engineers must account for in their design calculations. Because these boardwalk systems are usually held together by smaller nails or screws, stronger tie down systems are designed and specified, such as stainless steel hurricane ties. You can view photos and installation guidelines for these seismic and hurricane tie connectors here.
Similar to a timber or composite boardwalk, we design our PermaTrak system to follow applicable boardwalk design codes. Although the smaller tread components can be installed by hand, PermaTrak precast concrete boardwalks provide greater weight resistance and are equipped with a tongue and groove cast into each tread that keeps the components of the boardwalk locked together.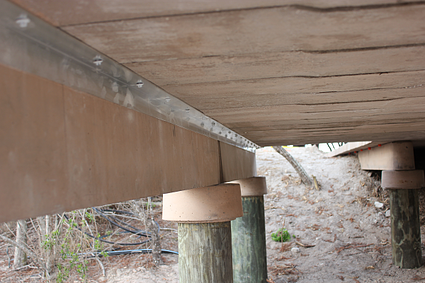 The unit weight of reinforced precast concrete alone (150 lbs. per cubic foot) offers an advantage over other materials, even without additional mechanical connections. We also offer other methods to tie down concrete boardwalk treads, including adhesives, steel angles and dowels epoxy-grouted into place.
Combined with one of these tie down methods, the PermaTrak system can be designed to maximize resistance to uplift forces. Even without an additional tie down system, PermaTrak exceeds the minimum uplift load of 20 psf as defined by AASHTO. This type of boardwalk design is referred to as a "gravity load system" where no other tie down mechanism is required to meet the AASHTO code requirement. Over our interlocking beam system, this translates to 50-80 psf of boardwalk surface area.
Note: In a Hurricane Katrina damage assessment survey conducted by ASCE, marina piers constructed with concrete materials fared far better than their timber counterparts.
Salt Exposure From Storm Surges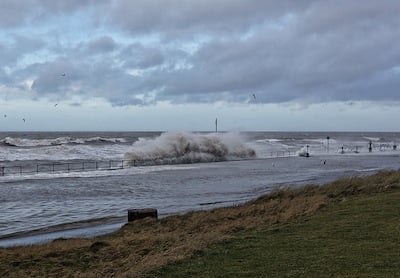 Coastal storm surges can pose a unique set of challenges for concrete boardwalks. A boardwalk submerged in a saltwater storm surge will face both uplift forces and salt exposure. If salt is able to seep through the concrete, it may bring about corrosion in the reinforcing steel members. It takes a good deal of salt exposure to begin corroding steel to a point of structural concern, but concrete boardwalks can be constructed with additional protection through increased concrete cover sizes, epoxy-coated steel and corrosion-preventing admixtures. To read more about how a concrete boardwalk can be designed to withstand salt exposure, click here.
Learn more about how PermaTrak's weight and durability give designers a boardwalk system to handle the challenges and demands of marine construction, even in the face of coastal storm surges and wind uplift forces.
Related Articles:
Photo Credits:
2nd photo by Shawn Perez
4th photo by Beverley Goodwin