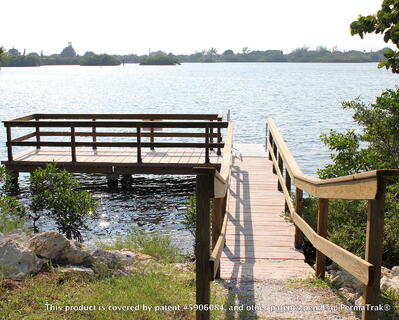 The Northeast is recovering from Hurricane Sandy as communities, leaders, and designers debate over the preferred boardwalk material for rebuilding efforts. Engineers and architects designing these solutions have much to learn from those who have previously faced similar design challenges.Designing a boardwalk for coastal and marine environments requires consideration of 5 important ideas:
live load selection
, slip resistance, durability, constructability, and life cycle maintenance cost benefits. The Virginia Beach Boardwalk, Coney Island Boardwalk and recently completed Myrtle Beach Boardwalk offer large scale successful examples of concrete boardwalks constructed along the Atlantic coastline that have successfully accounted for these considerations.
1. Determine the Appropriate Live Load
This step may be the single most important factor driving the cost for the overall project. Wide promenades like Atlantic City Boardwalk and Myrtle Beach Boardwalk must be designed for heavier loads such as an emergency vehicle or even heavier trucks. Typically a 15,000 lb load distributed with a 10,000 lb rear axle and 5,000 front axle would be a good representation for an ambulance. A H-10 truck (20,000 lb) or HS-20 truck (72,000 lb) design truck may also be applicable. By comparison, a small 6 ft wide walkway for a fishing pier would only need to be designed for a pedestrian load of 85 to 100 psf uniform live load, depending upon local building codes.
2. Slip Resistance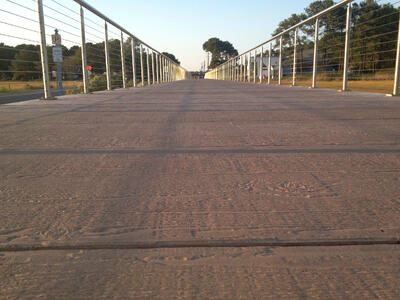 Owners have been known to strongly encourage their hired consultants to consider potential liability concerns caused by users slipping on the boardwalk. Timber, composite and most plastic decking is well known for being very slippery when wet and has owners seeking alternate solutions. Form liners (plastic or rubber molds laid in concrete forms) allow concrete to be cast with textured surfaces, helping reduce slippage. PermaTrak has a number of slip-resistant texture options available. The higher the material's SCOF value, the more slip resistant that material is considered.
3. Durability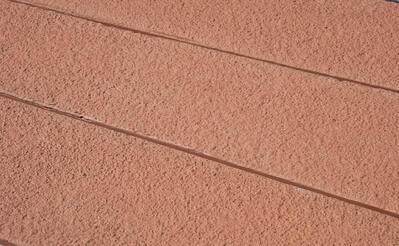 Marine environments demand that materials be durable, long lasting and able to withstand Mother Nature's elements. Walking surfaces and handrails of fishing piers and boardwalks are subjected daily to sun, sand abrasion, foot traffic, and normal wear and tear. Less durable materials require costly maintenance. Softer decking materials such as timber may rot, twist, decay and lose strength over their life span, whereas concrete is known for longer life spans (50+ years).
4. Construction Method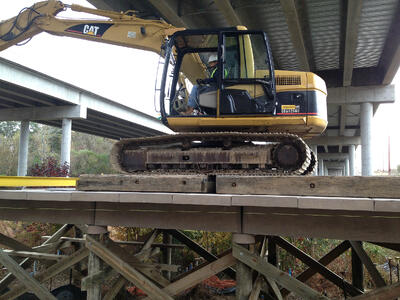 A designer must always consider how the boardwalk will be constructed. Marine construction is a specialty in itself! Driving piles over water may require barges to position pile driving equipment in the water, wetlands or marshes. Where permitting does not allow for disturbing the environment, constructing the boardwalk "in the dry" or by "top down construction" may be required. With "top down construction," the construction equipment is positioned on top of the boardwalk as it is built. Some material choices lend themselves better to such construction techniques.
5. Life Cycle Maintenance Cost Analysis

Taxpayers would like to avoid their money being spent on hiring subcontractors to replace twisted, rotted and cracked planks every 3-4 years, redriving nails, replacing girder fasteners and/or restaining a boardwalk. Life cycle maintenance cost analysis of the various material options needs to account for annual dollars spent on these items. There are multiple data comparisons that demonstrate how a concrete boardwalk costs 2-6 times less than timber boardwalks over the products' life cycle. Recent downsizing of maintenance crews within Park and Recreation and Public Works departments have agencies searching for ways to save money for their taxpayers.
Related Article: