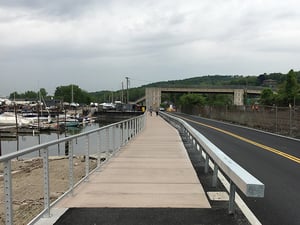 Cantilevers are worked into the design of a boardwalk system when the landscape architect, civil engineer, or owner wants to get the end user closer to something, such as a scenic view, a body of water, or a point of interest. There are two main directions in which to cantilever a boardwalk towards this point of interest, from the front or from the side.
Recently, we've been getting a lot of questions about incorporating a cantilever into our boardwalk system. This article will discuss when a cantilever can be utilized and what factors designers should consider.
Factors to consider include:
Elevation difference from the finished PermaTrak structure to the ground below and the overall grading plan of the adjacent slopes
Geotechnical conditions and the type of foundation systems to be used
Design live load of the PermaTrak system
Aesthetics
Constructibility
Benefit of the cantilever versus the potential increased cost
To illustrate these points, we'll show some real project examples where cantilevers were successfully used.
How much of a cantilever is possible?
Like many design questions, of course the answer is, "It depends!" The amount of cantilever a designer can build into their boardwalk structure is a factor of the PermaTrak tread size. Without any special design or accommodation, the standard PermaTrak boardwalk treads (starting at 7 feet 6 inches width) can cantilever out 24 inches.
To simplify, the general rule of thumb is that 25% of the tread width can be cantilevered. However, PermaTrak has engineered and built boardwalks with cantilevers up to 48 inches. (on an 8-foot wide tread).
What if that isn't enough cantilever, if the design calls for more of an extension? There are two main ways to incorporate an extended cantilever in your boardwalk project:
Adjust the reinforcement in the treads. PermaTrak designs and produces special boardwalk treads for this. Our first preference is to try to accommodate a requested cantilever distance with our standard tread thickness, but increase the structural capacity of the cantilevered tread by increasing the reinforcing steel.
Make design accommodations with additional components. For example, adding steel connection plates and increasing the tread width make extended cantilevers possible. The downside? These design changes add time and money to a project. How much time and money? This depends, but the engineering team at PermaTrak has experience doing this and can work with the project designer to cost-effectively bring their design ideas to life.
Do you want to incorporate a cantilever into your next boardwalk project? Let us know! And in the meantime, check out a couple of quick case studies on some of our recent cantilever projects.
The village of Croton-on-Hudson in NY wanted to create a safe multi-use link between two parks. Pedestrian safety became an issue on Elliott Way as walkers and bikers were sharing a stretch of narrow, single lane road with limited visibility that was sometimes heavily used by vehicle traffic. The road is bordered by the Hudson River and the New York MTA's Metro North railway, making it impossible to expand the paved road.
After discussing the end goals of the project and working through multiple design meetings, a 351-foot elevated PermaTrak concrete boardwalk system was designed to cantilever 3 feet over micropiles on the river side. This solution minimized disturbance to the Hudson River while providing an extended surface for pedestrians.
Click here to read more about this project.
The Van Wezel Performing Arts Center is set on Sarasota's picturesque bay front and attracts locals and tourists to experience a variety of music, dance, theater, and comedy. Four viewing piers were originally set on the grounds with timber platforms that had to be replaced due to harsh conditions and salt water exposure.
PermaTrak worked with the design team to develop a plan that used beams designed to run beyond the piers to create a cantilever over Sarasota Bay. The treads were then placed on top of the beams to provide a footprint that was larger than simply stopping at the pier locations. The newly finished PermaTrak viewing piers will ensure that Van Wezel visitors can enjoy bay front viewing for years to come.