Today we're going to discuss pros and cons of two different materials that can be used for commercial boardwalk projects: Ohio Gratings and PermaTrak's concrete boardwalk system. Ohio Gratings, Inc. designs and manufactures products used for non-boardwalk applications for several industries including industrial, material handling, bridge and transportation, and material handling. However, for the purpose of this comparison we'll be specifically looking into parks and recreation, commercial trails and pedestrian bridge applications.
As we've said before when comparing boardwalk materials, this article is not meant to "bash the competition." Rather, it's intended to help you decide which boardwalk material is best for your project.
Ohio Gratings Aluminum or Steel Grating vs. PermaTrak Precast Concrete Boardwalk
Ohio Gratings, Inc. (OGI) offers heavy-duty welded carbon steel, stainless steel grating, and aluminum swaged and dovetail bar grating, as well as aluminum plank and fiberglass products. OGI products are used for a variety of needs including trenches, catwalks, screens and grills, fencing, stairs, mezzanines, and shelving, and may be a solution for walkway needs.
Ohio Gratings offers a durable, long-lasting product along with design commentary, engineering, fabrication, and distribution, much like PermaTrak.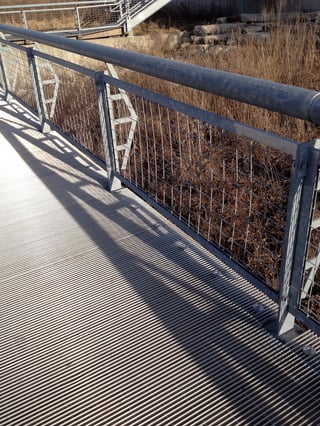 Ohio Gratings vs. PermaTrak: Material Costs
As always, cost will play an important role in the boardwalk material evaluation.
Ohio Gratings produces a variety of products that range widely on per square foot price. I can tell you, however, on a 2015 project where the owner was considering PermaTrak and Ohio Gratings, two of their product offerings for an ADA-compliant pedestrian walkway ranged from $36-80/SF delivered. While the material cost was higher than PermaTrak, the industrial feel to the product was preferred as a better fit for the project site.
OGI vs. PermaTrak: Material Overviews
Ohio Gratings, Inc. Overview
OGI's metal boardwalks/walkways are manufactured from aluminum extrusions drawn wire stainless steel (304 and 316 alloy) and cold-formed carbon steel, and can be manufactured for pedestrian or heavy-duty vehicular loads.
OGI also has a unique "Wheels n' Heels®" product which is the first grating product that meets vehicle loading requirements of AASHTO and the pedestrian comfort requirements of the ADA. Available in carbon and stainless steel, the product come with 1/4" or 1/2" opening, allowing for wheel chair and high heel safety, as well as being bicycle friendly.
Some of OGI's projects that are similar to what we produce here at PermaTrak are:
University of Pennsylvania: Featured pedestrian walkways with stopping points to observe the wildlife and trees, leading to a pavilion for outdoor classroom activities.

Bear Grass Creek Nature Preserve: An elevated walkway across a twelve-acre park, which acts as a buffer between residential neighborhoods and the region's largest shopping mall. They used grating material that was strong, environmentally friendly, allowed light to filter through.

21st Century Riverfront Project, Chattanooga, TN: Waterfront project which used 6654 square feet of OGI's product on a 160 foot pier.

Chicago Botanic Garden: Elevated viewing platform near the Kleinman Family Cove which features a boardwalk, amphitheater, protected wading area and native plants. Students and families gather there to study aquatic plants and animals. Photos from this project are shown in the slideshow below.
PermaTrak Concrete Boardwalk System Overview
PermaTrak's concrete boardwalk system consists of reinforced, precast concrete components that form a complete boardwalk system. As of August 2020, PermaTrak North America has designed and produced over 300 concrete boardwalk systems in the US and Canada. Best suited for commercial applications including boardwalks, pedestrian bridges, observation platforms, fishing piers, and elevated greenways, the product's design life is 50-75 years. PermaTrak provides full design support for landscape architects and engineers who are looking to specify a maintenance-free, durable product.
PermaTrak is an ideal solution for heavily used trail systems, pedestrian bridges under 40' spans, boardwalks with heavier loading requirements (10,000 lb. vehicle, ambulance, maintenance truck, etc.) and walkways located in environments affected by harsh elements such as coastal salt water, extreme heat/humidity, UV rays, and flooding.
To view some projects where PermaTrak was the right solution, check out these PermaTrak project profiles.
Ohio Gratings vs. PermaTrak: Pros and Cons
OGI Advantages (Pros)
"Industrial feel" preferred for certain sites
Allows light to pass through to plants & vegetation below walkway
Custom fabrication and field adaptable
Special finishes available including slip resistant treatments
Lightweight yet strong aluminum or steel materials
Minimal maintenance
Galvanized steel has a design life expectancy of 50+ years in rural environments
Online course available for architects and engineers to learn more about OGI products and applications
OGI Disadvantages (Cons)
Typically more expensive than PermaTrak (depending on project requirements)
Requires heavy equipment for installation
Needs galvanized coating to prevent rusting
Galvanized steel has a design life expectancy of just 20-25 years in severe urban and coastal environments.
Not ideal for small-scale projects
PermaTrak Advantages (Pros)
PermaTrak Disadvantages (Cons)
Conclusions
It's always a good idea to understand the different commercial boardwalk systems available for your project needs. We hope this review has been helpful in determining whether PermaTrak or Ohio Gratings is a better fit for your boardwalk project.
We have found that our PermaTrak concrete boardwalk is a great fit for some, but not all, of the projects ideas we're approached with. The product can be cost-effective, save thousands in maintenance dollars and withstand heavy use over the long haul - but the project must be a good fit.
Related Articles Comparing Boardwalk Materials (sign up for a notification when these become available)
Boardwalk Material Comparison: Trex vs. PermaTrak
Boardwalk Material Comparison: LumberRock vs. PermaTrak (coming soon)
Boardwalk Material Comparison: TimberTech vs. PermaTrak (coming soon)