Using PermaTrak Wedge Panels for Boardwalks with Sharp Turns or Curves

If you're considering designing a boardwalk or elevated trail with curves or sharp turns, you might be concerned about cost, design limitations, or engineering roadblocks.
Not only is PermaTrak an excellent option for your boardwalk due to its durability and lack of required maintenance, but PermaTrak concrete boardwalks are also versatile in terms of horizontal alignment changes.
Generally speaking, curves, sharp turns or sweeping radii become more common on longer elevated trail or boardwalk segments. This could be a result of designers taking what the site gives them, it could be driven by user experience, or a combination of both. As one example: who wants to run or bike down a perfectly straight boardwalk for miles on end? Even just a simple, gradual curve can break up the monotony and improve the user's experience.
Here are some common questions that come up from designers looking to specify a boardwalk with curves, sharp turns or radii:
How does PermaTrak deal with curved alignments – what are my options if I want to create a radius or curve on my boardwalk?

PermaTrak's concrete boardwalk treads can easily be designed and produced as tapered or wedge-shaped (pie-shaped) to give designers the flexibility to incorporate curves into their elevated trail or boardwalk alignment.

These wedge panels, or pie-shaped treads, are a great alternative to a gradual radius in many instances. Wedge panels are a sound solution if the piles become too close for a radius. Or, from a design functionality perspective, if you're hoping for a steeper turn or curve, you could opt for a wedge-shaped panel as shown in the PermaTrak projects below:

PermaTrak projects with wedge panels

Here are some photos and installation drawings of PermaTrak projects that have utilized wedge panels or tapered treads to achieve sharper turns on a boardwalk:
Allen Water Station
The PermaTrak walkway overlooks Allen's historical Old Stone Dam and connects to a new steel truss bridge, allowing visitors access to enjoy the scenic view of the waterway and surrounding trees. As you can see, the wedge panels in this project allow access to overlook the scenery from multiple access points. Read more about Allen Water Station.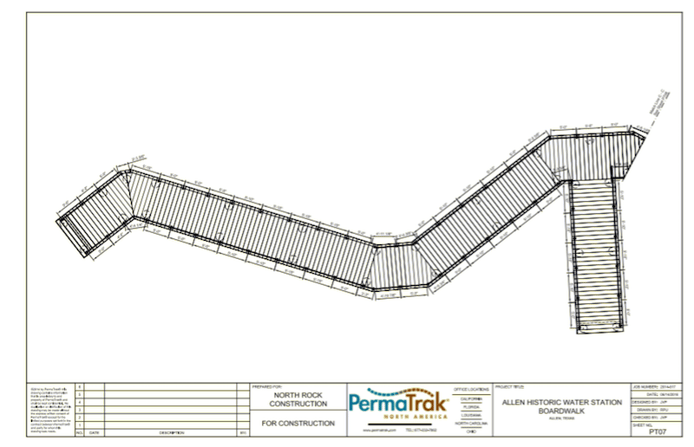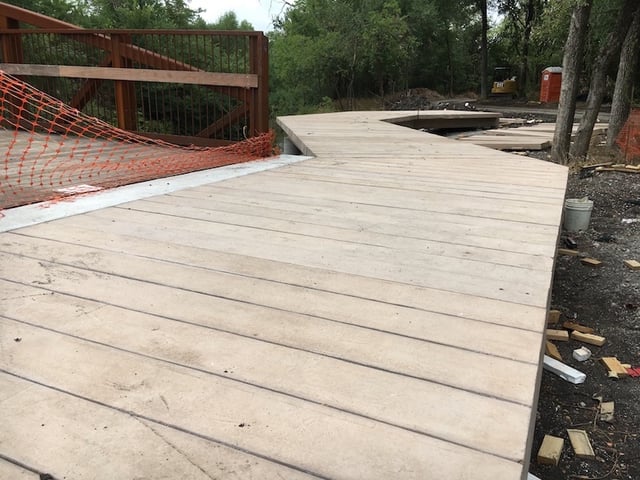 Joplin Park
Joplin Park's boardwalk in Missouri includes two fairly sharp turns, taking visitors over the waterway to enjoy views of the waterway's fountain. The sharp-angled sections on this boardwalk encourage leisurely walkers, rather than bikers zooming through. Note: Joplin Park boardwalk designed by SWT Design in St. Louis, Missouri.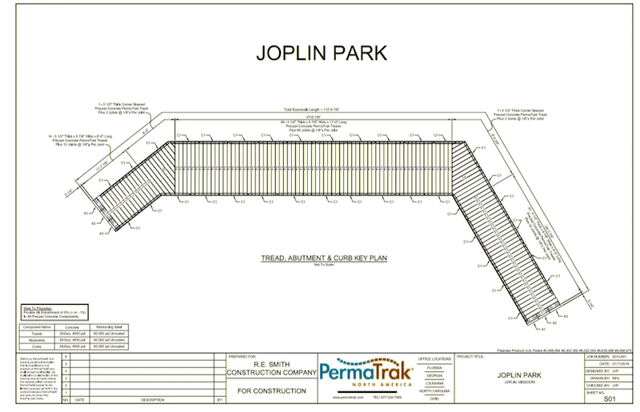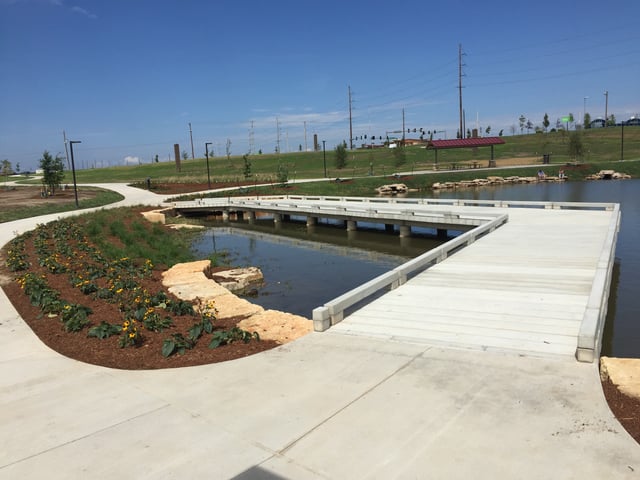 Crescent Green Greenway
The wedge panels used in this project created a more gradual radius for the north and south crossing boardwalks. The 60 linear ft. north crossing boardwalk features one gradual turn, while the south crossing boardwalk features two different gradual zig-zagging turns. These boardwalks takes visitors through the area's spectacular wooded views.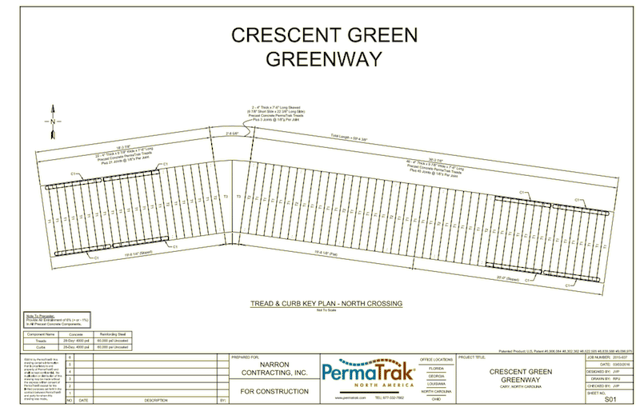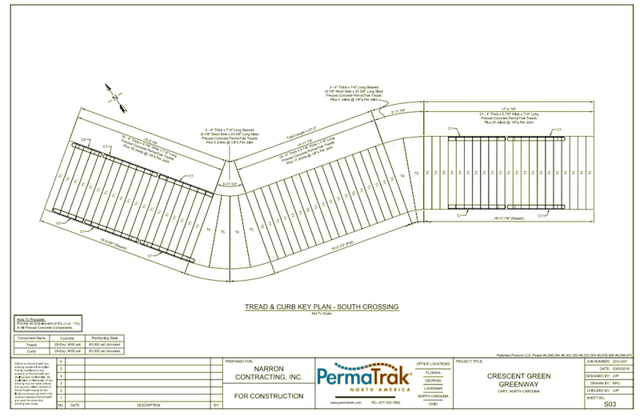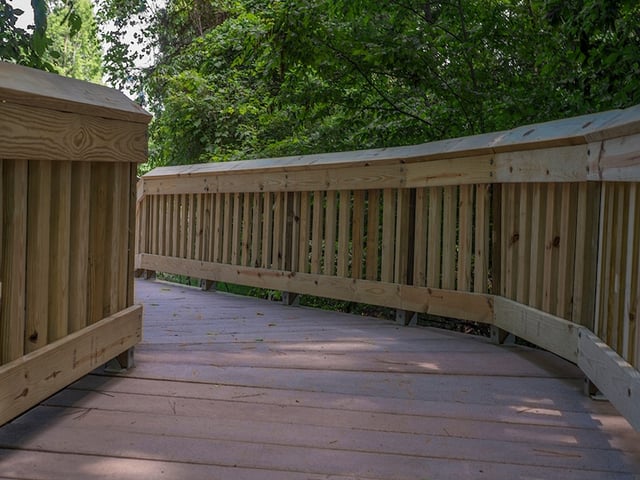 Do boardwalks with curves or wedge panels cost significantly more than straight boardwalks?

In short, the answer is no - a PermaTrak boardwalk with steep curves or sharp turns does not cost more than straight segments. Take a look at this article, which explains cost information for projects with curving sections or tapered treads.
Can wedge panels be integrated easily into my project layout?

Yes. Depending on your project needs, in terms of PermaTrak boardwalk components, wedge panels are often a nice alternative to a more gradual curved radius. If you're interested in discussing your project in more detail to see if wedge panels may be a good option, send us a quick note!
What kinds of projects would sharp turns and wedge panels be best for? Would PermaTrak work for a structure that is a trapezoidal shape?
Often, layouts with sharper turns encourage walkers to slow down and enjoy the scenery. Projects that include observation decks or benches alongside the boardwalk could be ideal for wedge panels because the boardwalk's use is geared toward leisurely meandering and taking in the views.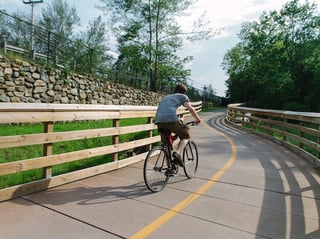 Also, if your project is simply a pedestrian crossing over water, you may not want cyclists whizzing by walkers and runners at 20 mph. On the other hand, for larger, wider multi use trails meant for pedestrians and cyclists, a gradual curver with a coupleo of PermaTrak tapered treads could work well.
What's the minimum or maximum radius I can use for my boardwalk alignment?
This is a great question that comes up a lot in our design discussions with landscape architects and engineers. The design codes and guidelines around horizontal alignment for commercial boardwalks simply aren't as mature as highway or pedestrian bridge design codes. To answer the question - we haven't had an alignment given to us by a landscape architect or engineer that we haven't been able to hit using a combination of our straight treads and pie-shaped wedge panels. Using our steel forms for production, we have unlimited skews we are able to produce so that we can meet any angle or alignment the designer gives to us. See this article for several design layout options showing minimum radii with different sizes of PermaTrak treads.
Reach out to our team or set up a time to talk with one of our professional engineers to discuss your project in more detail.