PermaTrak Boardwalks Over Wetlands at Upper Tampa Bay Trail, Florida
Tampa, St. Petersburg and Clearwater residents have been enjoying the Florida winter even more so this year with the Phase IV additions to the Upper Tampa Bay Trail in Hillsborough County.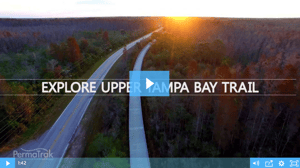 Hillsborough County Parks and Recreation Department continues to add to the one-of-a-kind trail through Booker Creek Preserve in Hillsborough County, which now stretches over 12 miles across two sections.
As you'll see in the video below, Upper Tampa Bay Trail is the perfect getaway from the hustle and bustle of the cities, located 10-20 minutes north of Tampa or St. Petersburg, FL. On any given day from dusk until dawn, the trail is alive with walkers, runners, cyclists, rollerbladers, longboarders, and of course, man's best friend. Enjoy!
PermaTrak Concrete Boardwalks Over Wetland Areas
As the Phase IV segments of Upper Tampa Bay Trail wind north from Van Dyke Road to Lutz Lake Fern Road, the 12 ft. wide asphalt trail curves through tall pines and hovers over ½ mile of Florida's protected wetlands with PermaTrak's concrete boardwalk system.
Florida's harsh UV exposure, heat, and humidity traditionally wear down timber boardwalks after a few years, which drove Cardno TBE's design team to search for a maintenance-free product that wouldn't disturb the sensitive wetland area. Their client, Hillsborough County Parks & Recreation, was tired of spending maintenance dollars on fixing rotted, warped or twisted timber boardwalks.
"We wanted something more durable with longevity," Richard Sanders of Hillsborough County said. "In Florida, we have these wetland areas all over the place and we have
 a lot of crossings that go through these areas. It's important when you're installing something out in the wetlands that you do it without damaging the area," he added.
Cardno TBE specified PermaTrak as the basis of design to solve the county's maintenance concerns. The design team chose a Sandblast texture on PermaTrak's treads to ensure a non-slip finish that trail users can enjoy in all conditions.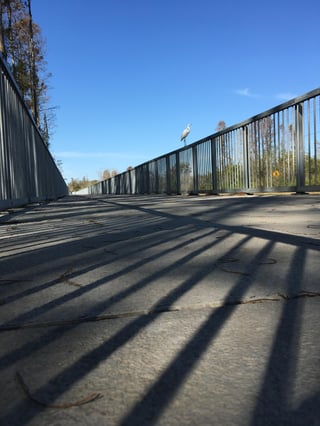 In total, Phase IV of Upper Tampa Bay Trail's enhancements include 2400 linear feet of concrete boardwalk across three different sections of wetland areas home to Florida's diverse wildlife. The boardwalks run alongside Lutz Lake Fern Road, taking trail visitors toward the trailhead of the northbound 41-mile Suncoast Parkway Trail.
The linear footages of each PermaTrak boardwalk segment measure approximately as follows:
Boardwalk #1 - 524 linear feet
Boardwalk #2 - 1600 linear feet
Boardwalk #3 - 356 linear feet
PermaTrak boardwalk treads were designed by Cardno TBE at a lay length of 36 in. and width of 13 ft. 4 in. With a local standard Florida DOT Index 850 railing system (galvanized steel) on either side, the large PermaTrak treads provide over 12 ft. of usable space for multiple lanes of pedestrian or cyclist traffic.
Top Down Construction at Upper Tampa Bay Trail
Pepper Contracting's team utilized an intermediate loading area and installed the PermaTrak system via top down construction.
"We liked that feature too, how you could install the boardwalk on top of the existing sections," Sanders said.
Upper Tampa Bay Trail Amenities
In addition to the boardwalk segments, the Upper Tampa Bay Trail has a bike air pump and repair station, restroom facilities, water stations, and safety features like sticker stations for emergency calls, so users can tell emergency responders exactly where they are located.

With a total project cost of $5.6 million, funding sources included Southwest Florida Water Management District (SWFWMD), Hillsborough County and an FDOT grant.
Thank You!
On behalf of all of us at PermaTrak, we want to extend a big "thank you" to the following parties:
Thank you all for working with us at PermaTrak; we're grateful to be a part of this awesome project!
More Information
Visit this blog post to see construction photos of the PermaTrak boardwalks being installed at Upper Tampa Bay Trail. Send us a note if you'd like installed boardwalk cost information for this project.
To learn more about PermaTrak concrete boardwalks, visit our Education Center page.
And for those local to the Tampa/St. Pete/Clearwater area: we hope to see you out there on the trail!