If you are a landscape architect busy conceptualizing a boardwalk or pedestrian bridge project, you're probably thinking about colors and textures - and wondering whether our concrete boardwalk product can be colored, stained or sealed?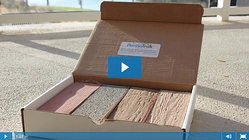 It's a great question from the designers we partner with, and I wanted to answer with a quick video below:
As we discuss in the video, you may want to match the color of nearby pavers, benches, or playground structures; however, we actually do not recommend staining the concrete boardwalk after installation. While it is certainly possible, it will require future maintenance as the stain fades from the sun and other elements. If you choose to apply a stain, there is no special brand of staining required.
You can choose a custom color to integrally color the precast components at the precast plant, meaning the dye is mixed with the concrete. This eliminates the need to re-stain the boardwalk components in the future. In general, the cost of your project may go up 10-15% with a custom color, which is why most owners and designers specify one of PermaTrak's standard colors instead.
Thanks for taking a minute to watch! You can browse through our standard integral color and texture options here or click the link below to see up close video of a "Natural Concrete" color on a popular boardwalk in Charlotte, NC.
Related Video: "Boardwalk with 'Sandblast' Slip Resistant Texture - Charlotte, NC"