Galveston Island's beloved 2000-acre state park features newly installed PermaTrak concrete boardwalks, offering tourists safe crossings over the historic sand dunes and beautiful views of the Gulf of Mexico.
Galveston Island State Park, located about an hour's drive southeast on I-45 from downtown Houston, is in the midst of a major redesign and renovation - coordinated and managed by the SWA Group, a landscape architect firm.
Slated to be fully completed in the spring of 2022, the project seeks to enhance the entire park including:
Selecting the Right Boardwalk for the Project
While just one piece of a larger renovation puzzle, selecting the right boardwalk was crucial in accomplishing the overall goals of the Galveston project.
Galveston Island's sand dunes provide an important ecological habitat for natural wildlife and help protect the coast against storm surge and high waves.
Gradually sloping up and down, reaching about 5 feet in elevation at their peak, the boardwalks play a vital role in controlling visitor traffic paths to and from the beach.
Boardwalks allow tourists to reach the ocean, walk along the coast, and experience the park without causing erosion and destroying the dunes.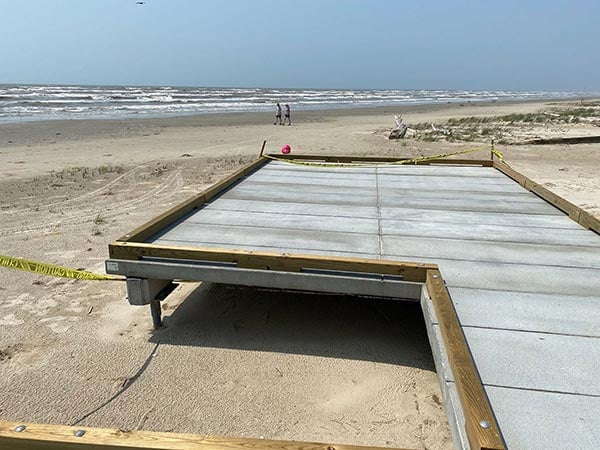 A key piece of any beach boardwalk, this platform will serve as a cleaning station for Galveston Island visitors looking to wash off sand after a stroll on the shoreline.
Why were PermaTrak's concrete boardwalks chosen for this project?
Why not timber or pressure-treated wood?
Concrete - A Durable, No-Maintenance Option for a Coastal Environment
Think about the last time you walked along the beach. Try to visualize the sights and sounds and get in touch with all of your senses.
Do you feel the warmth of the sun beating down upon your back?
Can't you just smell the salt from the sea and feel the moisture in the air?
The sun, the saltwater, and the moisture in the air - all contribute to a pleasant beach experience for visitors.
But it makes for a harsh environment for many building materials and structures.
The sun beats down on pressure-treated wood or timber and can quickly result in splintering and other types of deterioration, leading to high repair and maintenance costs.
Long-term exposure to water can damage wood and lead to rot from the inside out. While not immersed in the ocean itself, the Galveston Island boardwalks will need to withstand frequent low pressure systems and storm surges that will temporarily cover the boardwalks.
Much like the sun, high humidity and moisture in the air can cause pressure treated wood or timber to bow, warp, or twist. The distortions can quickly bring a wooden beach boardwalk or walkway to fall out of ADA compliance, resulting in necessary repairs and maintenance.
Fritz Fromherz, PermaTrak's Sales Representative for the Gulf Coast, reflects on his initial conversations with the SWA Group and other entities involved in the Galveston Island State Park renovation, "I just think they were tired of building structures on the beach and just waiting for them to eventually get destroyed. They wanted something more durable, something that is built for the long-term. Fortunately, we had the right product to align with their goals."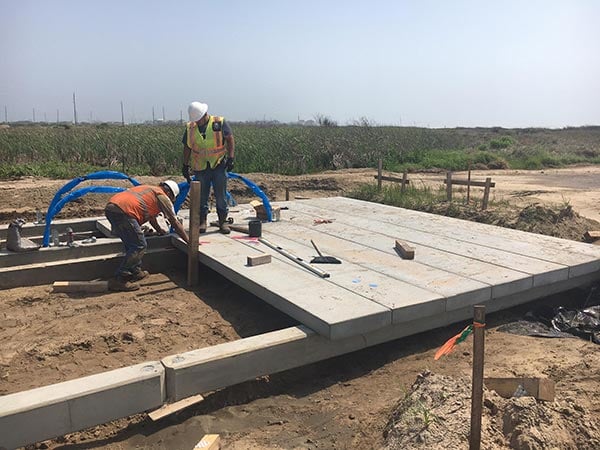 Contractors install PermaTrak concrete boardwalks at Galveston Island State Park.
PermaTrak's precast concrete boardwalks were the best option.
Concrete is a durable material, well suited to many environments whether cold, hot, dry, or damp. The reinforced precast concrete PermaTrak system requires very little maintenance, with a design life of 50-75 years.
It's actually built to get stronger over time and is highly resistant to wear and tear. Unlike timber or even composite options, precast concrete is also a noncombustible material and doesn't rot, warp, or pull up.
By choosing PermaTrak's precast concrete, the Galveston Island State Park renovation team invested in a boardwalk that will serve visitors for decades to come, with virtually no maintenance costs in the short-term or long-term.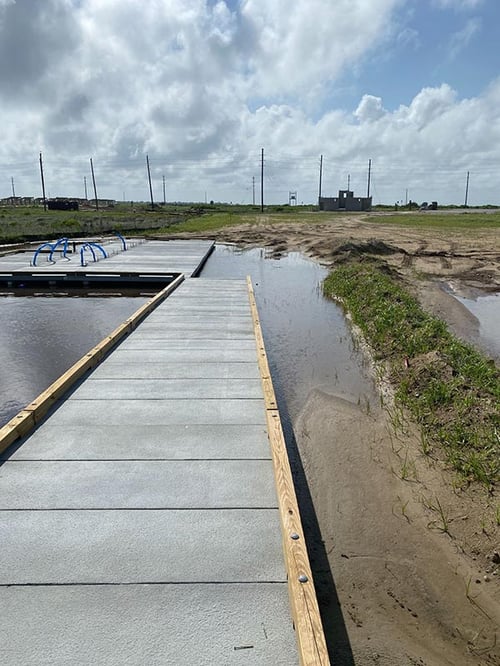 PermaTrak's Galveston Island beach boardwalk allows visitors a chance to cross over sand dunes and wetland areas along the shoreline.
Slip-Resistant in a Wet Environment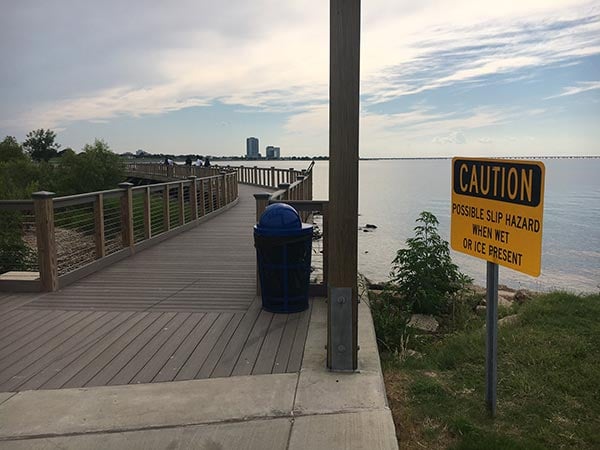 A sign next to a composite walkway warns pedestrians of a possible slip hazard when wet.
The southeastern Texas coast is a wet place, whether it be the humidity and moisture in the air, storm surges resulting in temporary high tides, or frequent rain showers marked by the ebb and flow of storm systems along the Gulf of Mexico.
When so many visitors and tourists are involved, slip-resistance and safety becomes a major issue. Someone slipping and getting injured on a wet boardwalk or walkway is certainly a concern for all involved - the pedestrian who gets injured and the entities in charge of the boardwalk.
Pressure treated wood, timber, and composite decking materials like Trex, Envision, or Timbersil struggle when it gets wet outside - they become less slip-resistant and could potentially cause an issue for some pedestrians. Typically, pressure-treated wood and timber are more slippery when newer and just been installed.
Once again, PermaTrak's concrete boardwalks are a better option when it comes to slip-resistance. The texture of PermaTrak's treads creates more friction and higher slip-resistance than timber, pressure-treated wood, and composite materials, even when it is wet.
Helical Piles - A Deep Foundation Option for Low-Impact Coastal Projects
PermaTrak's concrete boardwalks at Galveston Island State Park utilized helical piles as a deep foundation option.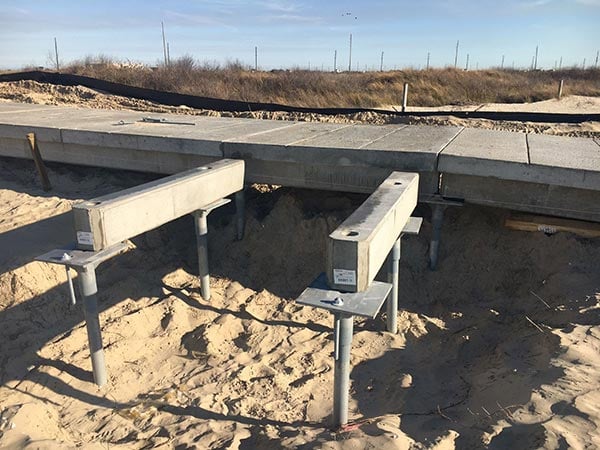 Helical piling, a deep foundational option, was used for Galveston Island State Park's new PermaTrak boardwalks. The Galveston Island sand dunes sit in the background.
Helical piling is a good option for this type of coastal project that needs low environmental impact and must withstand a harsh, wet climate. Unlike timber pilings which are exposed on the ends and can deteriorate for all the reasons mentioned above, helical piles are more durable and will last longer over time.
Helical piles can be installed with smaller machines than some other boardwalk foundation options and are less expensive than concrete piling systems. Small machines cause less of a footprint and disturb less of the natural beach ecosystem.
Composite piles, or Pearson piling, is also a good foundational option for PermaTrak concrete boardwalks and should be considered for similar projects.


Galveston Islands State Park - Building A Sustainable Future
Hurricane Ike wreaked havoc on Galveston Island and the greater Houston area back in 2008 resulting in devastating damage to the sand dunes and state park facilities.
With the recent enhancements and renovations, Galveston Island State Park takes major steps in both restoring the area and building a future that is sustainable, allowing it to be enjoyed for multiple generations of families and visitors.
The non-corrosive, durable, and slip-resistant nature of PermaTrak's concrete boardwalks contribute to the vision of the renovation project - connecting people with Galveston's natural beaches, while also preserving the beauty of the ecosystem for many years to come.