PermaTrak Pedestrian Bridges at Light Farms Community – Celina, TX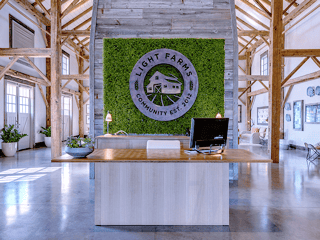 Two PermaTrak pedestrian bridges have been installed at the upscale Light Farms master-planned community in northern Texas. The impressive Light Farms community features two oval tributaries (about 300 ft. apart) with one PermaTrak boardwalk bridge to span each water source. Each of the PermaTrak structures are designed to meet up with an extensive existing trail system that surrounds the tributaries, providing more connectivity for Light Farms dwellers to enjoy their many neighborhood offerings. The installed tributary pedestrian bridge stretches 70 linear feet at 9 ft. 3 in. wide, while the second tributary crossing is 20 LF at the same width.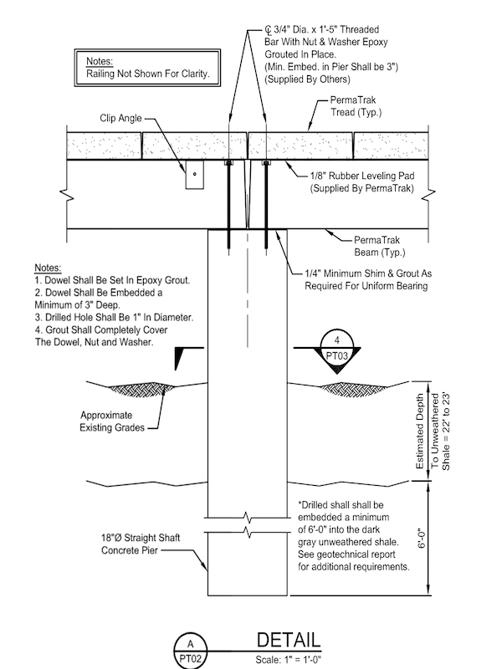 As the floodplain area is prone to a lot of fluctuation – teetering between extreme wet and extreme dry conditions, TBG Partners needed a precast concrete solution that could withstand these conditions. PermaTrak's engineering team collaborated with TBG on design details to tie down the first tributary pedestrian bridge components with threaded bar epoxy grouted in place as well as clip angles to secure the treads to the beams. Learn more about boardwalk design and construction for uplift forces here.

Designers at TBG had performed a life cycle maintenance cost analysis in 2015 before specifying a PermaTrak boardwalk on Windsong Ranch development, a nearby master-planned community in Prosper, TX. So their decision to specify PermaTrak for these tributary crossings at Light Farms was backed by research that their clients would save tens of thousands of dollars in maintenance costs over the life cycle of the structures.
Jodi House, Senior Associate and Project Manager at TBG Partners felt confident in specifying a durable precast concrete PermaTrak pedestrian bridge.
"We needed a cost-effective solution. PermaTrak seems to be the best choice out there for an area that fluctuates with water saturation in terms of maintenance and flood control. If we had gone with wood or composite, there would always be a question of 'how long will the material last?' We were concerned about decomposition."
It seemed easy for the contractors to install the PermaTrak product. We really have enjoyed working with the PermaTrak team throughout the whole process."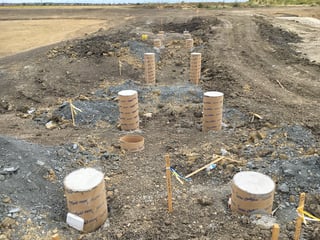 The project contractor, Ratliff Hardscapes LTD installed the PermaTrak pedestrian bridges with ease. House describes the Light Farms soil as sticky clay. "We needed to drill down past that for the piers," she says. The vertical cast-in-place caissons were poured in August 2016, followed by precast concrete PermaTrak beams and non-slip textured PermaTrak treads.
Amenitized Light Farms Water
TBG Partners is well accustomed to working with large outdoor spaces and making the most of existing conditions. "These are such large landscapes and we try to amenitize the whole community by offering trails systems and passways. It's a different way for Light Farms folks to access things without people getting in their cars and driving."
"Because everything is connected via a trail system, the way they handle storm water is to make it an amenity. You're actually able to interact with the Light Farms water and cross it. Instead of it being this wasteland of water, it's a nice space. The PermaTrak bridge is part of the trail system, which is part of the whole community. People crave that connection to nature. It rejuvenates people's souls."
Maintaining a Modern Agrarian Aesthetic
In the beginning stages of the project, TBG Partners developed three guiding standards to uphold while conceptualizing and designing the Light Farms' outdoor spaces:
Lifestyle – creating connections to family and friends and implementing culture through art.
Sustainability – utilizing the outdoors for learning to reconnect with nature while lowering the environmental impact.
Agrarian – relating the environment to a land that was used before – one of the past.
Brittany Andrews, PLA at TBG Partners explains the important of these concepts. "Every time we design a new open space here, we need to go back to this and make sure it's hitting all of these points. It's got to deliver on that purpose," Andrews says.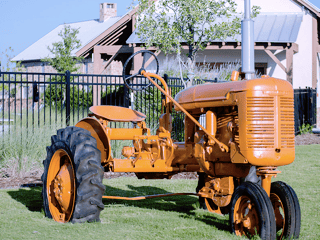 One way these standards are upheld and the modern agrarian look was achieved is through art on the farm: vintage refurbished tractors peppered in throughout the entire Light Farms community. A nod back to the historical ranch lifestyle, the rustic, yet polished aesthetic is also echoed with the use of natural wood in the common spaces including the information center and the gym. The concept is achieved by bringing the outdoor feeling inside.
Connecting the Light Farms Community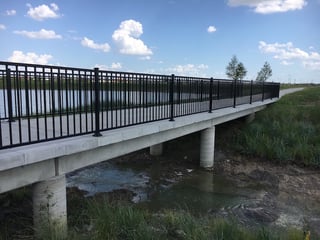 With many Light Farms homes actually backed right up to the water, members now have gated access to cross the water, rather than just walking around it. The PermaTrak pedestrian bridges give the Light Farms community access to cross the water, walk the trails and access the community's impressive amenities, which include:
18+ miles of trails for hiking and biking
132 acres of green space on the green belt
multiple playgrounds
pocket parks
neighborhood gardens
picnic areas
designated overnight camping spaces
a community lawn for events
four pools – including a junior Olympic pool
fitness center
an information center
art on the farm – restored vintage tractors around the community
sport courts (tennis, bocce & basketball)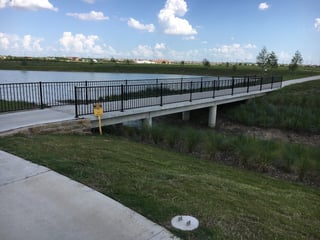 The Light Farms community regularly hosts events from festivals to family campouts to farmer's markets – there's something for folks of all ages. "They are their own community, but the community itself, has that warm neighbor feeling," Andrews explains.
Interestingly, the Light Farms site is just miles from Windsong Ranch, another PermaTrak Texas project that included an 85 LF PermaTrak boardwalk spanning a shallow creek. Due to pond levels and the elevation of the trail crossing, the PermaTrak pedestrian bridge at Windsong Ranch has been under water for an estimated eight to nine months of the two years it's been installed. View more pictures here.
In addition to these two tributary crossings, four additional PermaTrak pedestrian bridges are in the works to be constructed summer or early fall 2017 at Light Farms Regional Park. One pedestrian bridges utilizes PermaTrak's "medium beam series" with a 16 ft. precast concrete beam. The three other pedestrian bridges will be built with PermaTrak's "large beam series," supported by 24 ft. precast concrete beams that minimize the number of foundations needed.
Learn more about available PermaTrak beam sizes for your project here.
Photo credit: 1st, 4th and 5th photos by Light Farms